really enjoying this new schedule. On Friday, I came in at noon and left at 5. I used the extra time in the morning to see the Rockefeller Center Christmas tree, just brought in that morning from John's home town.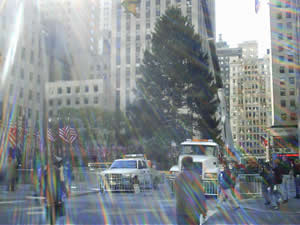 The day was so marvelous and clear, this small photograph cannot do it justice. Click on the image to see the larger version. A woman behind me complained that it was a "crappy" tree. I've seen it before decoration, so I'm sure it will be marvelous once it's finished.
One of the reasons I wanted to stop off there was the flags. The Christmas tree is on the street level above the statue of Prometheus, which overlooks the famous ice-skating rink. Surrounding the rink on 3 sides are flags, usually those of the U.S. states, though sometimes different colors -- silver and gold during the holiday season, if I recall from two years ago when I stumbled upon Autumn in New York filming there.
I saw on the news that all the flags are American flags.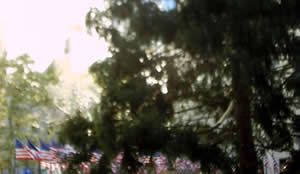 I'm not big on all the flag-waving, but the display was simply breathtaking.
. . .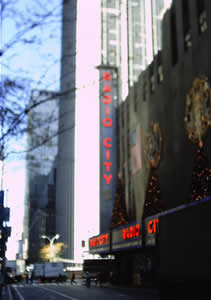 P.S. This is my 100th entry since I restarted the journal using GreyMatter.
[Next entry: "Sick and Tired"]
[Index] [archives] [bio]
[Wish List]