Feeling...
The beginnings of a cold. I'm glad I don't have school again until Saturday.
Quoting...
"Lovely and cool...that's you...enjoy the good things...ignore the bad as best you can... "
xo, John
He always knows the right thing to say. Mi hermano oro.
Brushing...
Up on my Spanish, beginning next week, courtesy of Speaking Freely. I guess if you pay $25k in tuition (lots of scholarships for me, mind you), perks like a free language course are to be expected.
Getting...
Free tickets to Julia Sweeney's one-woman show, The Family Way tomorrow. I got the last pair. Luckily, the ticket office is in a building near my class.
Eating...
Not my dinner, which was not there when I got home from school, for the third time in a little over a week. I love how the rules of this place apply only to residents, but not to the staff to do their jobs.
Talking...
To Nerd Boy of all people, which is quite a coincidence, considering who I saw after class.
Singing...
Thunder only happens when it's rainin'
Players only love you when they're playin'


always amazed at how reminders come. Reminders of where we are, where we want to be, and where we're glad we're not.
Walking home from class last night, I bumped into my old boss's 2 superiors, coming out of a dinner meeting at 9. I forgot the President of Non-Prophet lives near NYU. I took great relish in responding when she asked, "What are you doing here?"
It was just a big, flashing reminder of why I had to go. Yes, it's a struggle now, but it's a struggle toward something. I am in such a better place all around than I was a year ago, it is great to receive further confirmation.
My boss got a kick out of it, too. We'd just talked on Monday about how the culture at our company isn't work til you drop. That's a rare thing in New York, especially treasured now.
. . .
I am...getting sexually frustrated. I am so entirely exhausted from work, school and the miscellaneous errands, I feel like I'm running a marathon. I'm beyond too busy to see the boytoys and I've been falling asleep early before I can even masturbate.
These things are important, people. This being the year of whiny, assholes with small penises who won't go down on me (and it started off so well), there's been a lot of hassle and not nearly enough of the big O. Except for the reliable Hand Sol-O. And now I'm not even making time for that. I'm just saying.
I'll get used to the school schedule soon, especially since a lot of the tiredness is from chasing around, trying to get my books. I am still missing most of them. I hate this scramble and boy, does it bring back memories. But it will settle down and soon I'll be all over myself again.
. . .
Me: What is up with men talking during sex?
Fang: I don't know. It's always stupid. Such a turn off.
Me: You know there's this flap in the penis that blocks urine flow, so a man can't pee while he has an erection.
Fang: [snicker]
Me: There should be a corresponding flap to keep them from talking when they have an erection.
. . .
A few photos.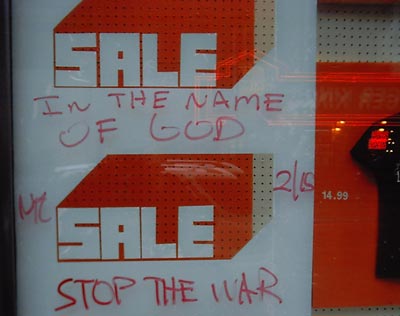 Grafitti at Urban Outfitters.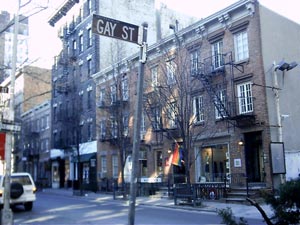 Gay Street. I found this while looking for a place to have my last birthday. It's in the West Village, no less. Note the rainbow flag in the background.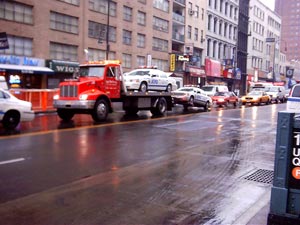 NYPD cars being towed, apparently for movie or TV use.
[Next entry: "Wiped"]
[Index] [archives] [bio]
[Wish List]