going to sleep well tonight. I met up with a friend from SoCal who visited for the weekend. I've missed her the last few times I've been back home, so it was especially nice to visit.
We met up on the 1,9 platform in Penn Station and rode the train to 66th Street, my old stop when I worked at Non-Prophet. Oddly enough, this is the third time I've been in the old neighborhood in a week (the first was last Sunday after the New York Marathon).
We walked around Lincoln Center and across a street in the West 60s to Central Park. Again with the flashback. We walked around the park and took photos for a while. The foliage was gorgeous.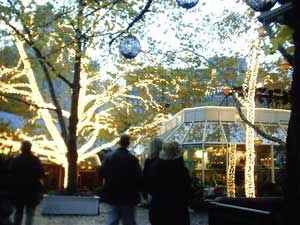 Patio behind the Crystal Room at Tavern on the Green.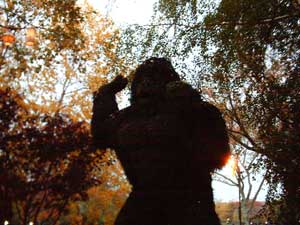 King Kong topiary behind Tavern on the Green. Passing previously, from behind, I thought it was a dancing bear.
Please click here for more photos of Central Park foliage.
. . .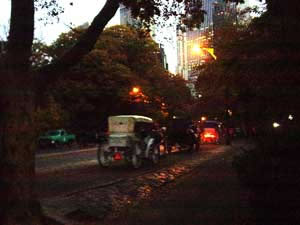 Carriages meander through the park at dusk.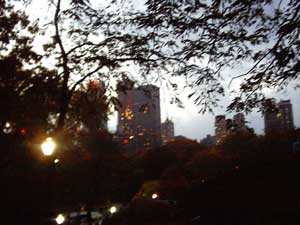 View from Central Park South.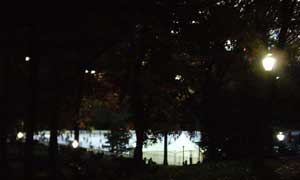 The Wollman ice-skating rink in Central Park.
We walked southeast across the park and met up with V's boyfriend at FAO Schwartz.

I'm not sure this is something we want the kids to see at the toy store.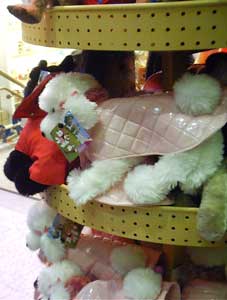 For the Park Avenue Princess -- my first poodle with a car coat.
We planned to eat at Serendipity, but the wait was an hour and a half! I've only been there a few times, but usually the wait is 45 minutes and after 15 or 20, I get in because people give up.
Alas, it was not to be. We wandered up Second Avenue and found the Silver Star -- which claims to be a diner, cafe and restaurant. Bases thoroughly covered, we ate mass quantities and caught up.
. . .
V's boyfriend wasn't feeling well, so we dropped him off at their hotel and headed south to the East Village. We tried on jewelry and accessories. I joked around with a skull ring and promptly got it stuck on my finger. I thought for a moment that I'd have to buy it and have tiny skulls wrapped around my right middle finger forever. I think it's a case of when you panic and seize up for a moment, it just makes things harder.
V and I walked a few blocks further east and decided to go to Veneiro's on First Avenue and 11th Street for dessert.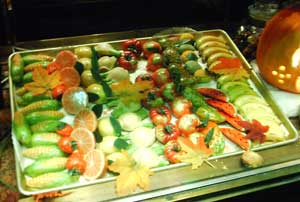 Marzipan fruit at Veneiro's in the East Village.
Over dessert, we reminisced about college. She was one of my reporters on the school paper. It seems like my life has gone backward from there -- I had a staff and an office at the age of 18. We talked about people we knew way back when and of the things we did.
It's funny the way, over time, you forget things like that. It's almost like you saw it in a movie, rather than lived it yourself. Of course, my life is like a David Lynch movie, but that's beside the point.
We climbed into a cab and said our goodbyes on 14th and Third Avenue. So New York, each of us dressed in black from head to toe.
[Next entry: "Belle of the Ball"]
[Index] [archives] [bio]
[Wish List]