really tired lately. I've decided it's the change of season. I am probably dehydrated, too. I drink more than the requisite 8 glasses of water a day, until fall comes and I no longer crave water as much.
Then I suddenly give up the water, cold turkey. I just don't remember to drink it, because I don't feel thirsty all the time. I go through this every year, you'd think I'd learn. So I am a bit run down and sleeping a bit more.
. . .
The office closed at 1, so we could vote. Business all taken care of, I decided to wander around and enjoy the novelty of being free in the middle of a weekday. OK, so having been unemployed all spring and summer and then working for a Jewish organization in September I haven't exactly wanted for a free weekday.
Except for the Wednesday before Thanksgiving, there isn't another half day off until Passover. Even that isn't very far away -- it's an embarrassment of riches, really. Can't wait until next September!
I planned to pick up a cup of bisque from the Soup Kitchen International, but alas, it wasn't open yet. He's closed during the warm months, but usually opens back up in October.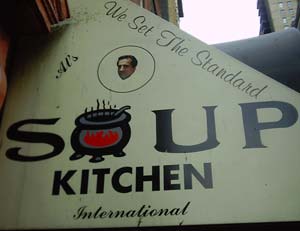 Al's Soup Kitchen International. Nazi or no -- it genuinely is the best soup I've ever had.
A friend who lives in the neighborhood said he kept walking when he saw the soup was $8, but with the huge hunk of bread, fruit salad and chocolate he gives with the soup brings it into the range of an average New York lunch. I had a huge cup of seafood bisque there the day I was let go from the job at Non-Prophet; it had two entire lobster claws, a huge scallop and several large shrimp. The Real Soup Man, indeed.
I grabbed lunch elsewhere and hopped on an uptown bus.
. . .
I sat in the park, eating my lunch on the bench I used to sit on when I worked at Non-Prophet, under that lovely canopy of trees. They were winter bare the first time I sat there. I came back and saw them in full bloom during the spring and summer. Now the leaves have faded and begun to drop.
I finished my lunch and kept reading my book, trying to stifle my laughter, because Bill Bryson is hilarious beyond words. A former coworker from Non-Prophet walked by just then and we caught up for a bit.
It was great to hear someone else had the same problems I did -- they treated me like I was just some hysterical woman because I refused to work every waking hour. She was with a friend and had to go after about 15 minutes.
I sat, enjoying the view a bit longer. As I ascended a winding park path to Central Park West, I caught up with her. She was being interviewed by Andy Rooney! I didn't think he even interviewed people.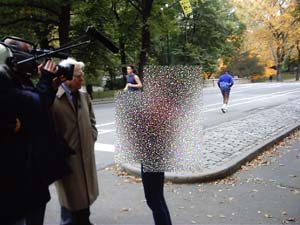 A former coworker gets interviewed by Andy Rooney.
What the hell?
. . .
After the park, I took the subway up to 157th to look at an apartment. It's time to leave the residence and have some privacy. I hate not having a place for people to sleep when they visit and not being able to have a few friends over for dinner.
The building was a bit run down, but the apartment was OK. It had hardwood floors throughout, nice size bathroom with a tub, and good light. The bedroom was small to medium with two large closets, one with built in shelves. The kitchen was large with a full size stove. There was absolutely no counterspace, but plenty of room for a table, shelves and a food prep cart.
The one really odd feature of the apartment was the hall. It went from the front door all the way to the living room at the opposite end of the apartment. It was about 3 feet wide by 30 or 40 feet long. It was too narrow to even have a small table or coat rack, yet it went on and on. It seemed a really odd use of the space.
I started to get attached to the place, it's the first apartment I looked in about 2 years and the first in New York for 4 years. I went outside and promptly got stuck in the elevator. I banged and rang the alarm, to no avail. The super was inside the apartment, but about 25 feet away, with the water running as he cleaned out the tub. If I were the sort to have panic attacks, I would've been toast.
After all of that, I still managed to get home early and have some time to myself before dinner. For about $100 less, I could have the weird apartment in the dirty building 140+ blocks north. I am weighing my priorities.
At 31, it just seems absurd to still be at this place, with so many restrictions -- it's like a cross between elementary school and prison. It was always intended to be a place to land and live in for a while, until I could get my own place. Money is still extremely tight, but I'll find a way, I always do.
[Next entry: "Walking Through the Park and Reminiscing"]
[Index] [archives] [bio]
[Wish List]