going to be spoiled by the high holy days. On Friday, the office closed at 1. It was quiet as a tomb, anyway, as most of management is at least Jewish, if not rabbis and cantors.
I decided to walk across 41st Street, as it's not as hectic and crowded as 42nd. I had double-booked myself, so it was great to have the extra time to myself before the hectic evening to come.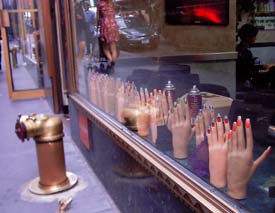 Creepy nail hands in the window of a midtown nail salon.
I particularly like the ones with lacy, fingerless gloves. So classy!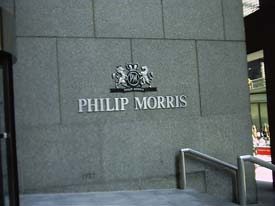 Growing up in a redneck town, it's weird to walk by giant,
conglomerations, to have a building to associate with the name and products.
East 41st Street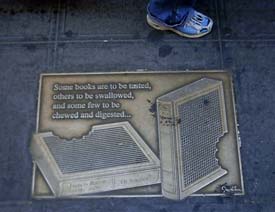 Noticed this Francis Bacon quote on the sidewalk and really
enjoyed it.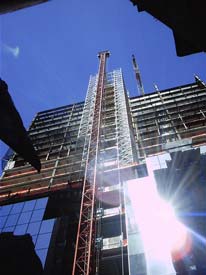 Construction on E. 41st Street; the city is ever-growing.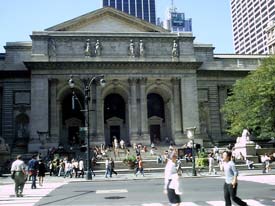 The main branch of the New York Public Library.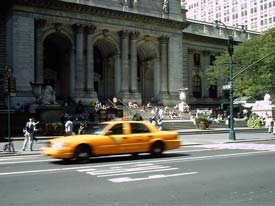 Cab whizzes by the NYPL.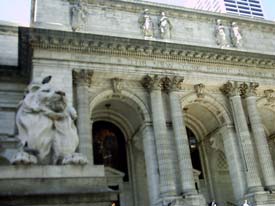 NYPL lion with a pigeon on its head.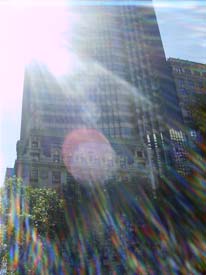 It's unfortunate this was facing the sun; I liked the contrast
of the older building in front of the modern, windowed skyscraper.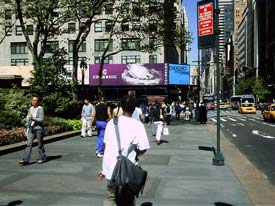 Waiting for the Fifth Avenue bus, facing 42nd Street.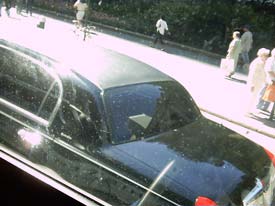 Too bad I was on the bus, this would've been a great Mirror
shot.
. . .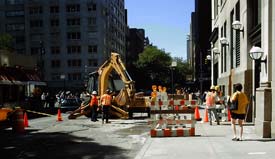 Construction in the West Village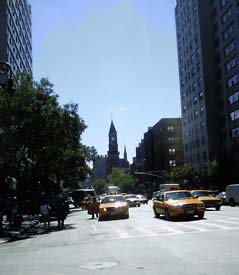 The Jefferson Market Library looks like a cross between a castle and a monastary.
[Next entry: "Savoring This"]
[Index] [archives] [bio]
[Wish List]