getting anxious again, due to the September 11th hoopla building up.
I've spent much of the last year mending what I can with my mother, getting my own life back on track, and making sure to tell people I love them. Dorothy and Fang have been especially good about that as well, although I wish Fang were around more. There just aren't enough conversations in the world with her.
I just try to live a good life and say my prayers for peace. What else can you do?
. . .
Tomorrow I have two dates and am going out with a friend and a group of friends. When it rains, it pours.
. . .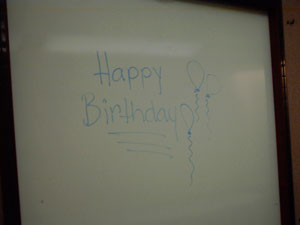 Birthday greetings on the board in the conference room. It's still up and makes me grin whenever I walk by.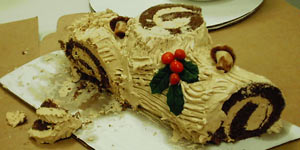 My work "buddy" (who I was introduced to in case I need help with anything) is a pastry chef. She's on the cake unit now. She brought in this Yule Log and a Lemon log on Wednesday. The mushrooms are made of marzipan, with cocoa powder dusted on the "gills" and the stems.
. . .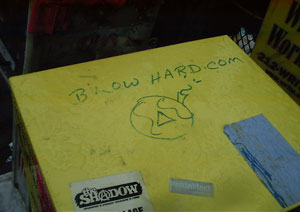 Technosaavy graffiti on Second Avenue and St. Mark's Place.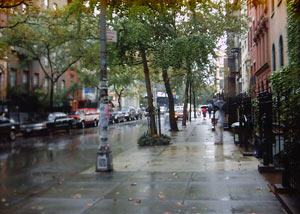 A lovely rainy morning last Thursday on St. Mark's Place.
[Next entry: "Remarking at the Difference"]
[Index] [archives] [bio]
[Wish List]