Friday, January 19, 2001

Luckily, there were only 5 of us, so we all piled into Jennifer's car and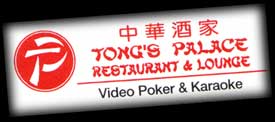 headed off to Tong's Palace. Now, really, what are the odds that there would be two Chinese restaurant/karaoke bars with rhyming names, even in Vegas?
The gang was all there -- Alopekis, Anna Beth, Allison, Hannah (who came up with the brilliant idea of the Vegas SquishyCon in the first place), Carrie, Christine, Mike, Chris, and of course Pamie and the ever-elusive Eric.
Pamie was very gracious, thanking everyone for coming and covering
most of the introductions. People talk about kissing up to popular journallers to gain noteriety and hits, but I don't think it's possible with Pamie. As with our first meeting, she was just so nice and funny, it's impossible not to like her.
When I first saw Pamie, I told her, "What is this, whenever I see you, you've got Mardi Gras beads on?" As you can see in the picture, I'd brought a ton of them from New Orleans when I passed through Austin last April. You can't see Pamie's, but she's wearing them.
Someone had given her a Pretty, Pretty Princess jewelry kit and just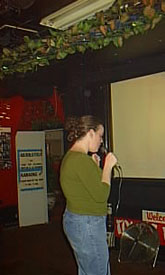 about everyone had on rings, shiny stickers (shaped like hearts and stars), earrings or necklaces. Pamie had on the necklace (which happened to look like Mardi Gras beads) and, of course, the crown...what with her being the Head Princess and all.
I must say, we had some fabulous singing Squishites. Mike sang "My Sharona" and "Tainted Love" which were not only great song picks, but his renditions blew me away.
Allison was fabulous on "Islands in the Stream," "Jolene," and "Folsom Prison Blues." A while back, Pamie said she couldn't sing nearly as well as Allison, but I was completely in awe of the Princess' solos: "Natural Woman" and "I Will Survive." Do not doubt the diva that is Pamie.
I figured if I got enough drinks in me I, too, might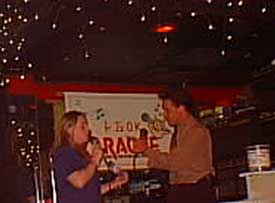 dare to try this karaoke business. Pamie threw down the gauntlet. "EricaJackson.com," she said, 'cause that's her pet name for me, "we've gotta do a duet." Now all this time I'd been looking for either a good solo or group song, a duet hadn't occured to me. I'd had it in my head to do something from Grease, so when she suggested "Summer Nights," it was only a matter of deciding who was to be Sandy and who Danny. Both of us have deep enough voices to attempt the Danny Zuko part, but I decided she was a lot closer to Sandy than I could ever aspire.
I was very relieved when a bunch of other Squishites came up to sing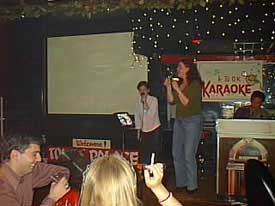 back up, because I sucked. I had to start the song and I'd completely forgotten Danny had the first line. No matter, as my mike was off for the first line, then not close enough to my mouth for the second. It is probably just as well that I quit the Carson Young Life Singers -- I probably wasn't destined to a showbiz life. Thankfully, there are no pictures of me from this performance.
That was followed up by Hannah's incredible take on "Hopelessly Devoted," because, apparently, a pre-teen Grease obsession is a requirement for Squishy readers. Someone else planned to do another Grease song, "You're the One That I Want," as I recall, but the order got screwed up and someone outside our group went next.
Everything after that is fuzzy. We stayed and drank for a few more hours and then Jennifer and I headed back to our hotel room, which was, amazingly, even smokier than the bar.