There were so many tacky things and people I didn't have a chance to take a picture of in Vegas. While there wasn't nearly as much big har as I remembered, there were leather pants during the day, skimpily clad cocktail waitresses offering free drinks to gamblers at 9 am and all other manner of oddities.
The one thing I wanted to see, besides lots of Squishite love, was the Liberace Museum. I figured it would be the Graceland of the desert. While Elvis is still the King in terms of volume, Liberace made Elvis' taste in clothing and furniture appear almost conservative and dull by contrast.
I thought Jennifer was exaggerating when she mentioned the 200 pound suit. Mr. Showmanship, indeed. Unfortunately, the only picture I managed to get inside the museum before I got busted for taking pictures, was of one of the two pianos decked out in mirror tiles.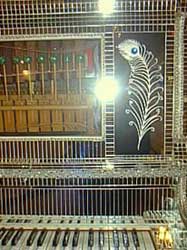 He also had a Rolls Royce and a Volkswagen Beetle customized with mirror tiles along the bottom half. Then there were the sequined and fur costumes, the little dog statues everywhere, the jewelry. He was so fabulous, I don't know how anyone was surprised to learn he was gay, gay, gay.
Next we went back to the Strip to sample Cokes from all over the world, but the tasting area is closed, permanently. I guess I'll have to go to Brazil to taste the difference in their Coke.
Then we headed next door to M & M World. Now there's a planet I wouldn't mind visiting.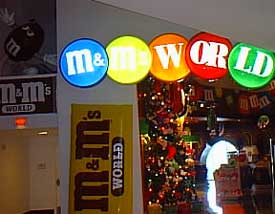 There were a ton of these parody movie posters. The Saturday Night Fever one was my favorite. Huge childhood crush on John Travolta, anyone?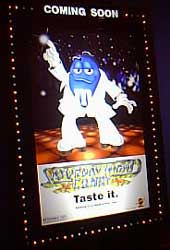 The main attraction at M&M World is that you can get unusual colors of M&Ms, both plain and peanut. Jennifer bought really pretty ones -- turquoise, cream and I believe pink. I chose black and purple for Fang and black and white for myself. Those seemed like the most unusual colors to me. I started to get more colors, but I already had a pound and a half, which is more M&Ms than any one person really needs.